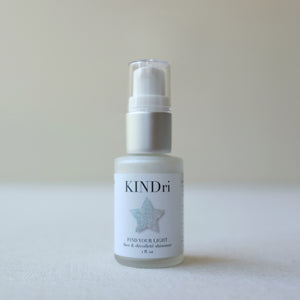 KINDri Los Angeles
find your light
Regular price
$28.00
$0.00
Unit price
per
1 oz.
Our fragrance-free face and décolleté shimmer is enriched with the naturally nourishing benefits of 100% Organic Shea Butter, Prickly Pear Cactus Seed Oil and the rejuvenating effects of Apple Stem Cell. Day or night, FIND YOUR LIGHT with our highlighting mineral pigment that reflects light radiantly.
Directions: Apply to cheeks, underneath the brow bone and décolleté, to highlight and add sparkle. For a more subtle effect add a few drops to your moisturizer or to your foundation to look "lit from within."
INGREDIENTS:
Organic Aloe Barbadensis Leaf (Aloe)
Cooling, soothing and rich in vitamins C, E and beta carotene, Aloe Vera's anti-inflammatory and antimicrobial properties prove to be a perfect remedy for stressed skin.
Organic Cocos Nucifera (Coconut Oil)
High concentration of lauric acid that acts as the antibacterial agent and with its fatty acid component can moisturize skin without causing breakouts.
Organic Amygdalus Dulcis (Sweet Almond Oil)
Naturally endowed with highly potent Vitamin E, protecting your skin from oxidative stress and UV radiation damage, keeping it soft and supple.
Prunus Armeniaca (Apricot Kernel Oil)
Closely resembles the natural sebum produced in human skin, moisturizing dry, sensitive skin, smoothing out blemishes and reducing the appearance of premature wrinkles, fine lines and other symptoms of maturing skin by maintaining its softness, suppleness and radiance.
Organic Prickly Pear Seed (cactus) Oil
Capitalizes on the 61% linoleic acid (Vitamin K) content in the Prickly Pear seed, a powerhouse essential fatty acid with a long list of benefits best known for its ability to reduce the appearance of dark circles and to heal, hydrate and plump.
Organic Punicagranatum Seed Oil
Pomegranate seeds contain ellagic acid, an antioxidant that helps to repair the skin cells and keep the skin hydrated. A powerful anti-oxidant, it contains healing properties which help to reduce pimples, acne and skin rashes.
Apple Stem Cell
Clinically proven to brighten and restore the appearance of skin by stimulating aging skin stem cells. Its unique formulation is known to increase the longevity of skin cells, resulting in a more youthful and radiant appearance.
Other Ingredients: 
Purified Water, Sodium Stearate, Kosher Vegetable Glycerin, Cetyl Alcohol and Synthetic (ethical and environmentally safe) Mica.
---