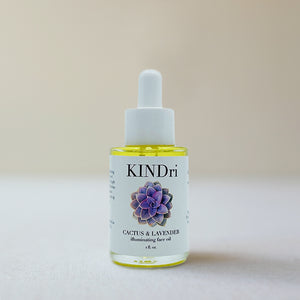 KINDri Los Angeles
cactus & lavender illuminating face oil
Regular price
$45.00
$0.00
Unit price
per
1 oz.
Your skin will glow! Hydrating Organic Prickly Pear Seed (cactus) Oil, reparative 4% Apple Stem Cell and the anti-inflammatory properties of Lavender Essential Oil make up this potent serum. 
Directions: Use 3-4 drops on clean dry skin alone or underneath your moisturizer for a fast absorbing, luminous finish. 
*Please note that due to their organic components, KINDri oils have a shelf life of 6 months opened and 12 months unopened.
INGREDIENTS:
Organic Prickly Pear Seed (cactus) Oil
Capitalizes on the 61% linoleic acid (Vitamin K) content in the Prickly Pear seed, a powerhouse essential fatty acid with a long list of benefits best known for its ability to reduce the appearance of dark circles and to heal, hydrate and plump.
Apple Stem Cell
Has been clinically proven to brighten and restore the appearance of skin by stimulating aging skin stem cells.  Its unique formulation is known to increase the longevity of skin cells, resulting in a more youthful and radiant appearance.
Organic Lavender Essential Oil
Naturally plumps the skin, reduces inflammation and discoloration and can heal acne breakouts. It is known to soothe skin conditions like eczema and psoriasis. Inhaling lavender through aromatherapy is also said to calm nerves and induce a more restful sleep.
Cruelty-Free Kitty Certified.
Leaping Bunny Certified.
We make sure all our products are 100% cruelty-free, vegan and kind to the environment.
---