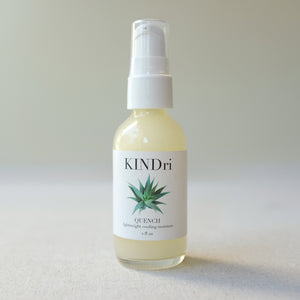 KINDri Los Angeles
quench
Regular price
$35.00
$0.00
Unit price
per
2 oz.
A lightweight drink of water for the skin. Contains Organically Grown Aloe Vera, Citrus and Eucalyptus to clarify, soothe and calm a normal to oily complexion.
Directions:  Apply a.m. or p.m. or as an aftershave.
INGREDIENTS:
Organic Aloe Barbadensis (Aloe Vera)
Cooling, soothing and rich in vitamins C, E and beta carotene, Aloe Vera's anti-inflammatory and antimicrobial properties prove to be a perfect remedy for stressed skin.
Organic Prickly Pear Seed (cactus) Oil
Capitalizes on the 61% linoleic acid (Vitamin K) content in the Prickly Pear seed, a powerhouse essential fatty acid with a long list of benefits best known for its ability to reduce dark circles and to heal, hydrate and plump.
Lemon Grass
Has antiseptic and astringent properties making it perfect for getting even and glowing skin.
Eucalyptus Oil
Neutralizes surface oils and has aromatic and medicinal qualities including anti-inflammatory, decongestant, antiseptic, antibacterial and stimulating. 
Other Ingredients: 
Purified water, Irish Moss, Xanthan Gum and Citric Acid. 
Cruelty-Free Kitty Certified.
Leaping Bunny Certified.
We make sure all our products are 100% cruelty-free, vegan and kind to the environment.
---