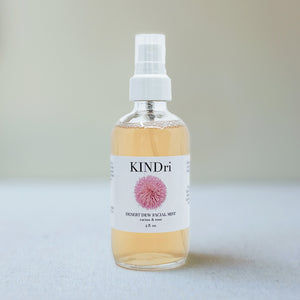 KINDri Los Angeles
desert dew facial mist
Regular price
$28.00
$0.00
Unit price
per
NOW IN 4 oz. FINE MIST BOTTLES WITH A BRAND NEW LIGHTWEIGHT FORMULA.
All the same refreshing components with no remaining residue!
Hydrating Prickly Pear Cactus Water and Rose Floral Waters are infused with uplifting Cucumber Seed and Organic Witch Hazel to refresh and balance any skin type.
Directions: Shake well and mist over freshly cleansed skin or during the day to refresh makeup.
INGREDIENTS:
Organic Prickly Pear Water 
Made with the fruit of the prickly pear cactus and contains powerful and revitalizing antioxidants.
Rose Floral Water
Filled with anti-oxidants and vitamins that help prevent the signs of aging and nourish the skin along with natural antiseptic, anti-inflammatory and anti-bacterial properties.
Botanical Cucumber Seed Extract
Rich in vitamins and minerals essential for a healthy looking skin, offering a natural source for a powerful antioxidant to revitalize stressed and tired skin, leaving it refreshed and radiant looking.
Organic Witch Hazel
An alcoholic extract from the leaves, flowers and bark of the hamamelis tree. One of nature's best astringents, it shows mildly styptic properties as well as helping to reduce redness and swelling through its cool soothing sensation.
Other ingredients:
Purified Water.  
---