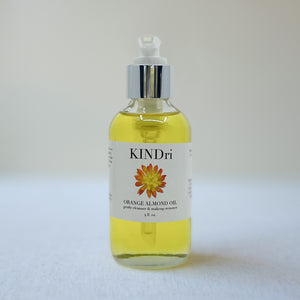 KINDri Los Angeles
orange almond cleansing oil
Regular price
$35.00
$0.00
Unit price
per
4 oz.
A purifying and conditioning blend of Sweet Almond, Organic Prickly Pear Seed (cactus) oil, Grape Seed Oils and Pure Orange Oil.  
Directions: A couple of pumps in the palm of your hand a.m. or p.m. and lightly massaged into the skin, completely removes all grit, grime and makeup.  Avoid the eye area. Remove with a soft, warm washcloth.
*Please note that due to their organic components, KINDri best cleansing oils have a shelf life of 6 months opened and 12 months unopened.
INGREDIENTS:
Organic Prickly Pear Seed (cactus) Oil 
Capitalizes on the 61% linoleic acid (Vitamin K) content in the Prickly Pear seed, a powerhouse essential fatty acid with a long list of benefits best known for its ability to reduce dark circles and to heal, hydrate and plump.
Sweet Almond Oil
Naturally endowed with highly potent Vitamin E, protecting your skin from oxidative stress and UV radiation damage, keeping it soft and supple.
Grape Seed Oil
With its skin balancing flavonoids, promotes the restoration of collagen, treating both dry and oily patches while helping to firm and hydrate at the cellular level.
Orange Oil
Provides high levels of Vitamin C that help protect and heal skin. It is also very beneficial for fighting signs of aging and dark spots as it promotes the production of collagen.
---